While there is ever-higher demand for local library resources and materials that are accessible to all, technology to meet the needs of today's workplace, educational programming, and highly trained staff, Wright Library operates today with less annual revenue than it received in 2009. 
In March 2020, Oakwood residents will vote on a 1.5 mill levy, which will provide Wright Library with needed funds to continue offering quality materials, services, staff, and programs.
A Long History of Careful Stewardship
Prior to 2008, Wright Library received 80% of its annual revenue from Ohio's Public Library Fund, with additional local tax support from a 0.94-mill Oakwood property tax levy. Unfortunately, in 2008, Ohio libraries were hit with large decreases in state funding caused by the recession, and Wright Library suffered a significant decline in state revenue that has never been restored. In 2009, Oakwood voters passed a small 0.5-mill levy that helped but did not fully offset the state funding loss. In 2012, voters combined these two small levies, and the combined 1.5 mill levy was renewed in 2017. 
To mitigate the impact of funding loss, the library has implemented cost-saving measures, deferred facility maintenance, reduced staffing, and sought private donations.
Even so, expenditures are expected to exceed revenues in 2020 due to a decade of reduced state funding and rising costs of materials, wages, healthcare, technology and building maintenance. Without additional levy funds, deficit spending and essential building repairs and maintenance will deplete the library's capital reserves by 2024. Over the next 10 years, expenditures are expected to exceed revenue by $4.8 million.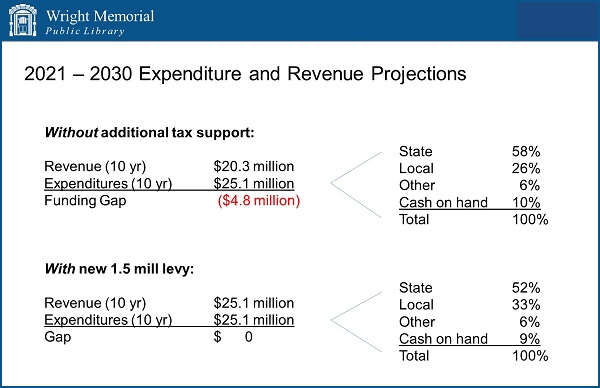 What Will Happen If the Levy Does Not Pass?
The new levy will protect the library services that Oakwood values: healthy collections; technology access and instruction; educational programming, including early literacy education; school outreach; and homebound delivery service. The levy will also maintain this historic building with infrastructure repairs and needed updates.
If the levy is defeated, the administration and Library Board of Trustees will have to make necessary decisions about cuts to library services in order to make essential facility repairs that can no longer be deferred. These cuts would likely include reductions in hours of operation, staffing, school support, technology support, educational programs, and special services like homebound delivery and notary.
Return to our 2020 Vision page