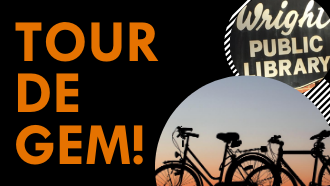 The Wright Library Gem City Riders want YOU
Do you love to bike and love the library? Join The Wright Library Gem City Riders or make a donation to support the team in the 2020 Tour de Gem Virtual Bike Challenge!
Join or donate through Sept. 6.
Tour de Gem is a fundraising cycling event for local nonprofits to raise money and bring awareness to their important missions. This is a fun, family-friendly way for cyclists of all ages and abilities to have a positive impact in their community and explore the many Gems Dayton has to offer!
Instead of an in-person ride, participants will have a two-week window (August 21 - September 6) to ride their preferred distance/route or participate using a stationary/spin bike.
Learn how to join or donate at https://www.ms-stride.org/tourdegem/profiles/team/20