How much will this levy cost Oakwood taxpayers?
A 1.5 mill levy will cost Oakwood property owners about $52 annually per $100,000 in home value.
When was the last local tax increase for Wright Library?
A 0.5 mill operating levy increase was passed by Oakwood voters in 2009 – 10 years ago. Based on current rates of inflation and state revenue estimates, the 2020 levy is expected to meet the library's operating and facility needs for the next decade.
Where does my tax money go?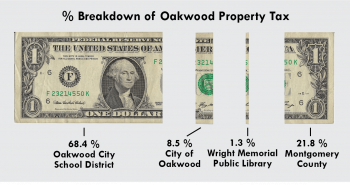 Oakwood property taxes support the City of Oakwood, Oakwood City Schools, the Library, and other Montgomery County services. Property taxes to support Wright Library constitute 1.3% of Oakwood property owners' total tax bill.

How much of my tax dollars support Dayton Metro Library?
None. Wright Library is the only library funded by Oakwood property taxes; Oakwood taxpayers do not support other library districts. By comparison, Dayton property owners pay 3.3 mills to support Dayton Metro Library services.
Will the Library have to close for repairs?
Repairs and updates will be phased over time so that the Library may continue providing services to the community.
Will the updates include an addition to the building?
No. The Library is committed to making repairs and modest updates within the existing footprint of the building.
What happens if the levy does not pass?
If the levy would be defeated, the administration and Library Board of Trustees would make necessary decisions about cuts to library services in order to make essential facility repairs that can no longer be deferred. These cuts would likely include reductions in hours of operation, staffing, school support, technology support, educational programs, and special services like homebound delivery.
How can I stay informed about the 2020 levy and Wright Library's operating and facility needs?
You can subscribe to email updates specific to the levy and related library updates.
Community Information Meetings:
• Feb. 27, 7 p.m. • Feb. 29, 10:30 a.m. • March 9, 6 p.m.
• Drop-In Q&A with the Director: March 9, 7:30 p.m.
Return to our 2020 Vision page