| Label | Information |
| --- | --- |
| Dates & times | |
| Category | Book Club |
| Age Groups | Adult |
Wright Library Book Club
Start time:7:00 PM – Duration: 1 hour
Location: Wright Library Community Room or Join via ZOOM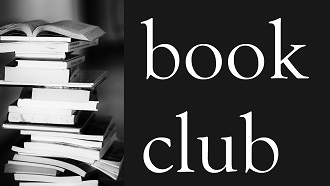 Join us for a relaxed, open-minded, varied discussion of this month's selection. New people are always welcome; no sign-up is required, but you can register here for an email reminder.
Extra copies of the book available at the 1st Floor Desk. 
Come in person (Library Community Room) or join virtually using this link. Joining the book discussion virtually will require the installation of the Zoom client on your computer (microphone and speakers required for audio, camera for video) or the Zoom app on your mobile device. Additional help using Zoom.  
(Not the Book Club for you? Learn about other Book Clubs at Wright Library)
---
December 12
This Time Tomorrow
by Emma Straub
On the eve of her fortieth birthday, Alice's life isn't terrible. She likes her job, even if it isn't exactly the one she expected. She's happy with her apartment, her romantic status, and her independence, and she adores her lifelong best friend. But her father is ailing, and it feels to her as if something is missing. When she wakes up the next morning, she finds herself back in 1996, reliving her sixteenth birthday. But it isn't just her adolescent body that shocks her, or seeing her high school crush—it's her dad, the vital, charming, forty-something version of her father with whom she is reunited. Now armed with a new perspective on her own life and his, some past events take on new meaning. Is there anything that she would change if she could?
"As always, Straub creates characters who feel fully alive, exploring the subtleties of their thoughts, feelings, and relationships. . . . Combine Straub's usual warmth and insight with the fun of time travel and you have a winner."—Kirkus, STARRED review
"Dig out your old band T's and crack open this charming family saga . . . Unlike other time travel stories, this one's not about figuring out how to get back to the present but how to appreciate it when you do."  —Good Housekeeping
---
January 9
Full Dark House
by Christopher Fowler
A present-day bombing rips through London and claims the life of eighty-year-old detective Arthur Bryant. For his partner John May, it means the end of a partnership that lasted over half-a-century and an eerie echo back to the Blitz of World War II when they first met. Desperately searching for clues to the killer's identity, May finds his old friend's notes of their very first case and becomes convinced that the past has returned . . . with a killing vengeance.
It begins when a dancer in a risque new production of Orpheus in Hell is found without her feet. Suddenly, the young detectives are plunged in a bizarre gothic mystery that will push them to their limits—and beyond. For in a city shaken by war, a faceless killer is stalking London's theaters, creating his own kind of sinister drama. And it will take Arthur Bryant's unorthodox techniques and John May's dogged police work to catch a criminal whose ability to escape detection seems almost supernatural—a murderer who even decades later seems to have claimed the life of one of them . . . and is ready to claim the other.
Filled with startling twists, unforgettable characters, and a mystery that will keep you guessing, Full Dark House is a witty, heartbreaking, and all-too-human thriller about the hunt for an inhuman killer. 
"Atmospheric, hugely beguiling and as filled with tricks and sleights of hand as a magician's sleeve...it is English gothic at its eccentric best; a combination of Ealing comedy and grand opera: witty, charismatic, occasionally touching and with a genuine power to thrill." —Joanne Harris, author of Chocolat