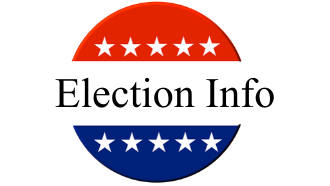 The Ohio legislature passed House Bill 197, which includes a provision that allows Ohioans to continue voting by mail until April 28 by absentee ballot.
Vote through April 27, 2020 by absentee ballot. Your ballot must be postmarked by April 27, 2020.
Limited in-person voting on April 28 is only for those with disabilities who require in-person voting, and for those who do not have a home mailing address.
To vote absentee:
Request a ballot by submitting an Absentee Ballot Application (due to Board of Elections no later than noon, April 25)
Wait to receive your Absentee Ballot in the mail
Complete and return your Absentee Ballot (must be postmarked by April 27)
How do I get an Absentee Ballot? To request a ballot, complete the Ballot Application form and mail it to your local Board of Elections. They will then mail you your Absentee Ballot.
What if I don't have a printer?  Wright Library has printed forms available in a box outside the library entrance.
You can also call your County Board of Elections to request the Ballot Request form by mail. You will have to complete and return this request in order to receive your actual Absentee Ballot. You may also follow directions from the Secretary of State to create your own application with the following information: 
Montgomery County BOE (open M-F, 8AM-4PM): 937-225-5656 
Voters who can't print their own form may also simply write the following information on a blank sheet of paper and mail it to their board of elections:
full name
date of birth
full registration address including county
address where ballot should be mailed if different from your registration address
one of the these: Ohio driver's license number, last four of your Social Security number or include a copy of an acceptable form of ID 
state that "I'm a qualified elector and I'm requesting an absentee ballot for the March 17th Ohio Primary"
indicate if you want a: Democratic, Republican, Libertarian or Issues only ballot (choose only one)
sign it
today's date
phone number (optional, but suggested)
email address (optional but suggested)
2020 Primary Frequently Asked Questions
---
More Information
What's on my ballot?  (Select FIND BALLOTS)
Montgomery County Board of Elections
From Ohio Secretary of State Statement 3/25/2020:
THE LEGISLATURE'S PRIMARY ELECTION PLAN:
The Ohio Secretary of State must design, print and mail approximately 7.8 million informational postcards to every registered Ohioan that explains to them how to obtain the form necessary to request an absentee ballot.
Based on preliminary estimates from prospective vendors, it is expected that these postcards will reach registered voters in the second week of April.
Voters who want to cast a ballot must then either print out an absentee ballot request form themselves or call their county board and ask for one to be sent to them.
Voters must then affix their own postage and send the request to their county board of elections.
Boards must then process the request, print the ballot and send it to the voter.
Each voter must receive their ballot, cast their vote, and return the ballot in a postage-paid envelope, postmarked by April 27th.