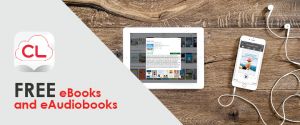 CloudLibrary offers eBooks and eAudiobooks to Wright Library patrons. You can read or listen on your computer through the CloudLibrary website, or install the app on your device. CloudLibrary provides helpful How-To Videos, but here are the basics.

Steps to get started from your device   

Step 1 : Download the cloudLibrary App   
Get the free app from Apple App Store or Google Play. Alternatively, you can install the Windows, Chromebook, or Apple desktop applications. Please visit https://www.yourcloudlibrary.com/ for links to get the free app and download instructions.

Step 2 : Login 
Select the Country, State, and Wright Memorial Public Library as your library, then enter your library card number (all 14 digits) and library account PIN (the default is the last 4 digits of the phone number on record with the library). Accept the terms of use and log in.   

Step 3 : Browse, borrow, and start reading!   
Use the Featured lists, browse options, or search for a title or author.  When you find a title you want, either borrow it or place it on hold.  When you borrow an item, it downloads automatically. Just tap the cover to begin reading. 
Patrons can check out up to 10 items at a time and keep them for up to 21 days.  The CloudLibrary app is compatible with the following devices: iPad, iPhone, iPod Touch, Android Phones, Android Tablets, NOOK Tablets, NOOK eReaders, Kobo eReaders and Kindle Fire.  

You can also visit the Wright Library cloudLibrary site to login, browse, and borrow!  Get additional help including common issues, video how-tos, frequently asked questions, and Adobe reset.
Still having trouble?