The library building will be closing to the public beginning Monday, Nov. 23 in response to Public Health Dayton-Montgomery County's Stay at Home Health Advisory. Curbside services will continue.
To continue borrowing library materials while our building is closed, patrons can request items through the library catalog. Once you are notified your items are ready, schedule a Curbside Pickup appointment time.
Book drops are open to accept returns at all hours.
---
How to schedule Curbside Pickup
Putting books on hold and scheduling Curbside Pickup is a great way to help the library remain a safe place in the community.
Place a hold request
Wait for notification that your items are ready
Then schedule a pickup time.
Call when you arrive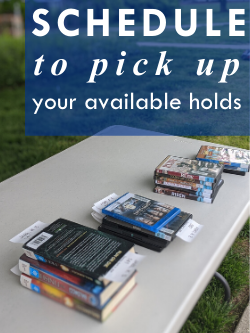 Get up to 10 items per pickup.
How to schedule a pickup:
Place a hold request.

Use the online Library Catalog; choose "Curbside Pickup" as your pickup location.
Or, call us to request over the phone. Have your library card number ready when you call. 

Wait to be notified you have holds ready.

You'll get an email, text, or phone call depending on your notification preference on file, letting you know your item is available.

Choose a pickup hour.

Once your hold is available, schedule online or call us at 937-294-7171; library card number required.
If you have more than 10 holds available, tell us which ones you want first. (Otherwise we'll pick for you.)
Before your pickup hour, we'll pre-checkout your held items, so they're ready when you arrive!

 

Pick up your items. 

Arrive anytime during your pickup hour.

Call 937-294-7171 (menu option 1)to let us know you're here
We will bring your items out to your vehicle,

You may be asked to verify your library card number over the phone.
Note: Last minute hold requests are unlikely to be included in your pickup. If you schedule a pickup when no holds are available for you, your pickup will be canceled.
Return items in our book drops or the return cart inside the library. Recent returns remain on your card while they are quarantined for several days before being checked in or re-circulated. No overdue fines are charged during the quarantine period.
---
To help us manage safe material handling and physical distancing, please:
schedule a separate pickup slot for each cardholder.
pickup 10 items at a time. If you have more than 10 items being held, consider scheduling  another pickup at a later time.
schedule only after we notify you the items are ready for pickup.
schedule a time at least 4 hours in advance.
wear face covering to protect our staff and other visitors.
Have you been notified your hold is available for pickup? Select your pickup hour here!