| Label | Information |
| --- | --- |
| Start & End Times | - |
| Category | Local Interest |
| Age Groups | Adult, Teen |
Join a guided hike where you'll get a chance to use Seek and iNaturalist apps in the presence of a knowledgeable guide who can answer questions. Wear your walking shoes and bring your phone to participate in the Oakwood BioBlitz (April 29-May 8).
Hike will last approximately one hour. Meet at Wright Library's front entrance at 10:00.
Registration is required | limited to 20 people 
Can't make it to this hike? Other hikes are scheduled for 2pm Saturday April 30; and 2pm Sunday, May 1 with more hikes coming soon.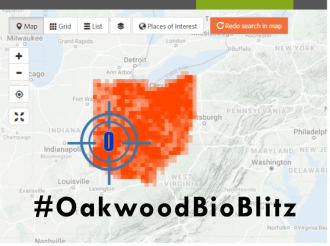 Learn about other Wright Library Ecology & Nature events surrounding the Oakwood BioBlitz, April 2022.