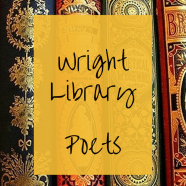 Wright Library Poets is a library sponsored open writing group for adults. We meet monthly to share our work and hone our craft. Join us to improve your writing, meet new friends and enjoy some poetry. Beginners welcome.
We are currently meeting virtually. For more information and to get the link to the meeting, contact Elizabeth Schmidt.
schmidt@wrightlibrary.org or (937) 294-7171.