Notes on Wright Library's services, collection, and community
---
6 Alternatives to the summer slide     June 16, 2020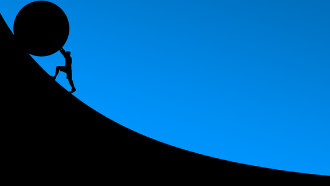 Summer slide is a popular term that refers to learning loss that occurs while kids are on summer vacation. Wright Library's Summer Reading Club is a fun and interactive way to encourage reading and learning throughout the summer months.
Wright Library's Miss Jacqui is collecting other great resources for homegrown education here>>
---
Oakwood Scene June-July 2020     June 15, 2020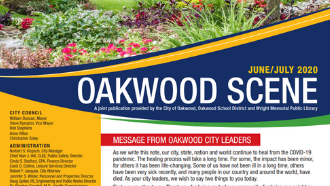 "Digital Content: Using Wright Library Streaming Services On Your TV Want a movie night at home for free? Use your library card! Many people access Wright Library's streaming services - such as Kanopy and hoopla digital, on their phones or tablets. But you can also access them on most televisions. Both Kanopy and hoopla can be accessed through TV streaming devices such as Apple TV, Amazon Fire TV, Roku, and Chromecast. You can also connect your computer to your TV with an HDMI cable to watch on the larger screen."
Read the rest of the story on pg. 11 of Oakwood's bimonthly newsletter >
**note: Pre-School Story Hour at Smith Gardens listed on pg. 4 is cancelled due to COVID-19**
---
What's happening inside Wright Library?   June 10, 2020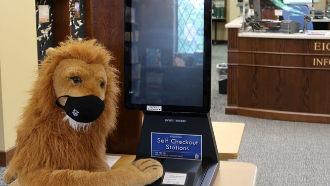 Staff is busy preparing the building for a safe re-opening. Here's a sneak peek at some of the changes.
Isolated self checkout kiosks
Social distance in the computer lab
Plexiglass at service counters
Quarantine of returned materials
---
Creating a space for conversations about race     June 6, 2020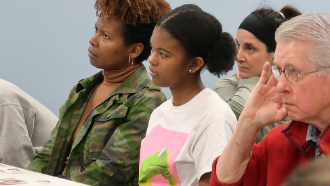 Wright Memorial Public Library is committed to providing opportunities for the community to talk openly and honestly about racism.
Central to this effort is our Let's Talk initiative, an event series that began in 2018 to promote in-depth conversations, intentional community, respect, active listening, and problem-solving among neighbors. 
The tagline of the Let's Talk series guides the series: Talking about race can feel uncomfortable, but not talking about it allows injustice to continue.
---
Curbside Return and Pickup   June 1, 2020
Returning Materials
Curbside Returns are accepted 10 a.m.-1p.m. and 2-5 p.m., Monday through Saturday on the Telford side of the library. Extended weekday hours to 7 p.m begins Monday, June 1. 

Placing holds & scheduling curbside pickup
Wright Library is now offering contactless Curbside Pickup for available holds.  Find details about placing holds and scheduling pickup online at https://wrightlibrary.org/curbside or by calling 937-294-7171.
---
Register for Summer Reading Club      May 20, 2020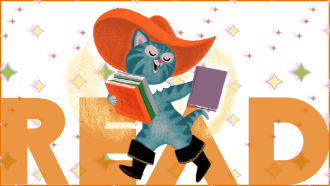 Summer Reading Club is a great way to keep kids reading and learning this summer!
Wright Library's team of childhood literacy experts have planned a full schedule of livestream programs and reading incentives to engage readers from pre-K through high school. 
There's a Summer Reading Challenge for adults too! Read books and share how you are safely enjoying your community to earn entries into weekly prize drawings from May 20 through Aug. 7.
---
Voters approved a 1.5 mill levy for Wright Memorial Public Library  April 28, 2020 
"We are very pleased to have the support of the Oakwood community," said Library Director Kristi Hale. "We did not take this issue lightly; we know Oakwood taxes are high, and taxpayers deserve and expect a high return on investment. Now, amidst this unprecedented health crisis, we will need this local tax support more than ever as we face a new round of decreases in state funding."
The 1.5 mill levy will provide Wright Library with needed funds of approximately $475,000 per year to continue offering quality materials, services, staff, and programs. 67 percent voted in favor of the measure.
"This levy will allow us to maintain our 4-Star services as well as repair and update our facility to make it more accessible, efficient, and usable," Hale said. "We are very excited to make our great library even better!" 
---
A video message from Wright Library   April 21, 2020
It's National Library Week and we miss you!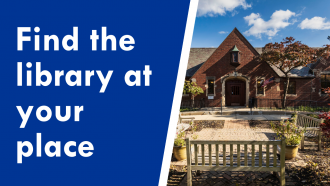 See if you recognize some familiar library faces in this video update from your friends at the library.

We can't wait to see you back again ... until then, learn how you can find the library at your place! 
---
Find the library at your place: Poster contest  April 18, 2020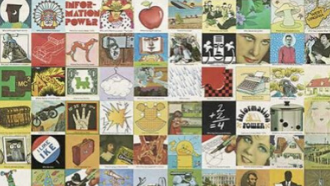 In celebration of National Library Week 2020, the Wright Library is holding a Poster Contest! Since 1958 the American Library Association (ALA) and libraries across the United States have used National Library Week to celebrate libraries, librarians, and readers.
"Every year, the ALA announces a national slogan and releases a poster for National Library Week," explains Jacqui Taylor, Youth Services Coordinator. "We love to encourage patrons to express themselves at the library--to contribute to the displays and art and so many of the choices made at the library. That's why we are holding a Poster Contest for National Library Week 2020."
---
When the library building closes, storytime goes online  April 14, 2020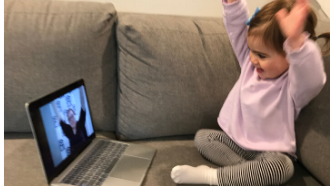 Before the coronavirus pandemic, a normal Tuesday for Sarah Kallile and her daughter Lucy included a trip to storytime at Wright Memorial Public Library. There, Lucy would delight in the music, stories, and playtime led by librarian Karen Mills.
Today, Tuesdays look different. Across town, Mills is in her home, recording a storytime to be broadcast on the library's Facebook page. Kallile is in her own living room, setting up a laptop so two-year-old Lucy can tune in.
When Wright Library closed its building in mid-March, its librarians began to plot how to move storytimes and other programming online. Mills now leads her three weekly storytimes virtually. Babies, toddlers, and preschoolers are watching from home with their families.
---
Wright Library adds Dial-a-Story April 11, 2020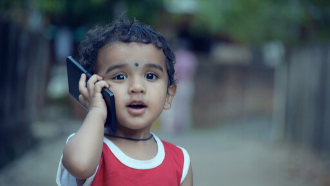 Does your little one have time for a 3 minute story?

Dial-a-Story at (937) 234-7527 to hear a story read by your Wright Library Youth Services Librarians. Save the number in your contacts to have it handy! 

A new story is ready each night at 7 p.m.
Visit the Youth Services page to learn more about library resources that are available for infant, toddler, elementary, and teen learners.
---
During the stay at home order, Wright Library extends eCard access  April 11, 2020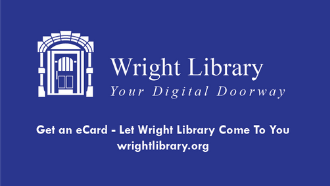 Wright Library has a vast online collection of resources perfect for reading, learning, and passing time during the stay at home orders due to COVID-19. Any Ohio resident without a card to Wright Library is encouraged to apply for an eCard to gain access to the digital resources.
Typically, eCards are intended for patrons who do not already have a Wright Library card, but library officials temporarily extended access to include patrons with accounts blocked due to overdue fines during the closure.
Library staff is answering emails and phones Monday-Friday: 10 a.m. - 7 p.m., Saturday: 10 a.m. - 5 p.m if you have difficulty applying online. 
---
Getting Through This Together Challenge  April 9, 2020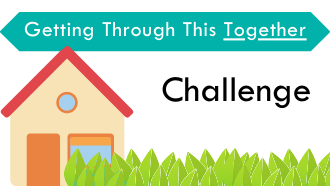 This Bingo-style challenge presents the best of the library's FREE online resources plus some other fun activities to do at home and the chance to win some library swag!
Download your bingo card. This pdf is chocked full of clickable links to resources and entertainment. Check off the bingo activities as you go.
Once you fill 5 in a row (vertically, horizontally, or diagonally), yell BINGO and submit your card on the Bingo! form, or email it to reference@wrightlibrary.org. If you cannot share the completed card by these methods, call us (937-294-7171).  You'll be entered in a prize drawing for Wright Library goodies.
---
Applications for Absentee Ballots are now available outside Wright Library   April 8, 2020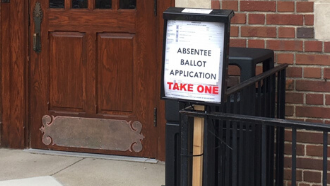 Library staff will periodically sanitize the lid and restock the applications, but citizens are encouraged to exercise caution and follow these guidelines from the CDC bit.ly/cdcGuide
Requiest a ballot by submitting an Absentee Ballot Application (due to Board of Elections no later than noon, April 25)
At wrightlibrary.org/vote, find
* How to vote by mail in the Primary
* Printable version of the application
* Election FAQs
---
Storytime: Helping Kids Understand Why People are Wearing Masks   April 7, 2020
During the April 7 edition of Terrific Tales, Wright Library's Karen Mills talks directly to children ages 3, 4, and 5 years old about why they may see neighbors, family members, and others in their community wearing masks. 

In the video, Miss Karen begins talking about masks at the 53 second mark, answering questions children may have such as: 
Is this mask a costume?
Can a person still talk when they have a mask on?
Are people who are wearing the masks scary or bad people? 
Will I get sick? 
For parents, she also recommends this helpful resource: https://www.zerotothree.org/resources/3211-why-are-people-wearing-masks-why-are-people-covering-their-faces 
---
"Free" borrows from Hoopla's Bonus Borrow Collection  April 1, 2020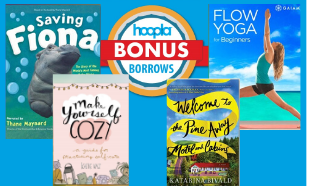 Who doesn't love something free? Patrons and libraries can thank hoopla for introducing Bonus Borrows.
Bonus Borrows is hoopla's response to increased demand in digital borrowing caused by libraries closing due to COVID-19. This special collection will not count toward the monthly lending limits and is totally FREE for libraries!
The new Hoopla Bonus Borrow collection features more than 1000 popular tittles curated from each section of Hoopla. This collection categories curated by age, interest, and media type: eBooks, eAudiobooks, workouts, TV, movies, comics, and more.
---
Monday Lunch Doodle with Mo Willems     March 16, 2020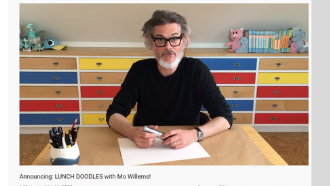 Mo Willems, one of the world's most beloved authors for children, announced a regular Monday doodle session. In a press release Willems said, "I know a lot of you guys are not in school. You're at home right now, because of all the things that are going on. Well guess what? I'm at home, too. We're gonna hang out together. Matter of fact, I'm really looking forward to it."
Monday, March 16 at 1 p.m. EST, kicks off the weekday series of lunchtime meetups where kids of all ages can doodle alongside Willems. The series is hosted by the Kennedy Center where Willems is the current Education Artist in Residence.
Videos will be posted on Willems page at the Kennedy Center website, and students are encouraged to send him questions at LUNCHDOODLES@kennedy-center.org.
View the announcement for this series on YouTube
---
No or reduced wait on most digital book titles      March 16, 2020
Give CloudLibrary a try! It keeps all your devices in-sync so you can pick up reading from any device exactly where you left off and if you're looking for literary classics, CloudLibrary should be your first stop to search for well-loved, lovingly remembered titles.
Our digital download apps give you 24/7 access to online material while our library is temporarily closed and setting up your account is easy-peasy. Download CloudLibrary from Google Play or the App Store to get started today and check out our website for more fun and informative apps.
---
Use your Wright Library card to access Kanopy Kids!      March 14, 2020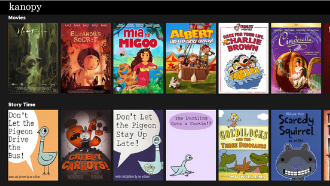 Good news for parents and children from Kanopy!
In response to public library branch closings, Kanopy is now offering a "collection of films that your community can watch at no cost to your library for the next 30 days. Watching these titles will not deduct play credits from your patron's account," plus they're offering unlimited Kanopy Kids access.
 Kanopy offers children's programming with Kanopy Kids, including educational and engaging videos for children of all ages that promote positive social and emotional development and inspire creativity. Kanopy has partnered with Common Sense Media™ to provide developmentally appropriate age ratings for videos on Kanopy Kids.
---
Which storytime is best for your child?      March 4, 2020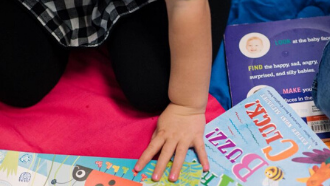 Early literacy is at the heart of Wright Library's mission.
Wright Library offers a mix of storytimes throughout the week, plus frequent weekend programming for kids and families. 
Find out which storytime is right for you.
Visit Wright Library's Youth Services page for additional resources for children and tweens and teens.
---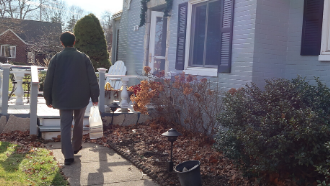 Homebound delivery makes a difference      Feb. 26, 2020
Any Oakwood resident who is permanently or temporarily unable to visit the library may participate in Wright to Your Home. Requests can be made by phone or online at wrightlibrary.org/delivery, and the materials are delivered and returned by library staff.
"Many of the patrons we deliver to tell us we're lifesavers, which may seem a bit much, but for someone who cannot get out, a good book or film, can make a significant difference in their enjoyment of life. Not everyone who wants to make use of the library can physically come to the library," said Wright Library's Adult Services Coordinator Brian Potts.   
---
Wright Library earns four-star rating      Jan. 19, 2020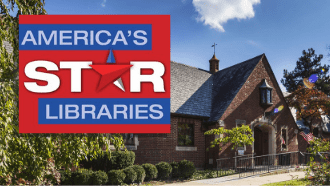 Wright Memorial Public Library earned a four-star rating in the 2019 Library Journal Star Library Report, ranking 19th overall among libraries of its size in the nation. 
This is the second consecutive four-star rating for Wright Library. The Library Journal index, based on 2017 statistics, measures how much the local community uses key services of their public library compared to peer libraries. The five services measured are circulation, visits, program attendance, public internet use, and Wi-Fi sessions.